Company Profile
About Shinjo Group & Shinjo International Co., Ltd.
Shinjo Manufacturing Co., Ltd. started as a manufacturer to supply the nuts to automotive industry instantaneously after World War II. We successfully developed the cold forming process of weld nut as the first case in the world, and gradually it evolved to high volume production by cold-forming which now allows us to manufacture 100 million pieces per month.
Besides, due to the demand of weight saving, we duly developed PIAS NUT that fixes to a thin sheet with sufficient strength, thereby, we became the world's leading manufacturer for its automatic feeding system while expanding our business to Europe and USA.
In 1960's, we, a specialized company of nut, entered to another category to manufacture male screws for the first time in screw manufacturing history, meanwhile we acquired the patent of self-drilling screws that had been newly introduced to the market at that time, in order to respond to the mass-production by the same cold working. We named it PIAS Screw that hailed around the world with its high-quality evidence.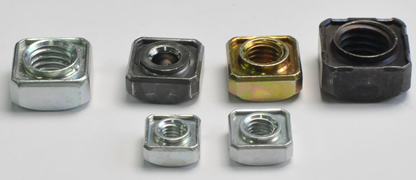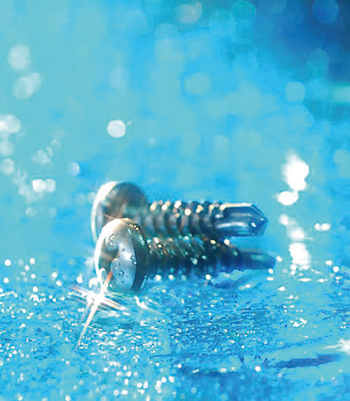 In 1990's, we successfully developed an innovative Bi-Metal Screw, the first product in the world that a stainless steel drilling screw drills into the steel sheet, called PIASTA, was instantly spread all over the world.
Although it is natural that a follower comes up in every industry with their innovative products with the times, however, as above, Shinjo Mfg. Co., Ltd. continues to develop innovative products to meet the world's needs under our company creed, but not limited to that, we are confident that the reason that enables us to maintain its position as the first leading company in the market is a result of our never-ending effort to pursue higher quality improvement and to sharpen its management ability.
At the moment, Shinjo Mfg. Co., Ltd, as a Shinjo Group, takes in charge of nut manufacturing, and QP Fastening Works Co., Ltd. takes in charge of screws. Being responded by the recent globalization, in the view of the world's standpoint and its management decision towards the future as a group, we decided to establish Shinjo International Co., Ltd. to move on to the next stage of the world.
We, Shinjo Group, manufacture and sell the world top class products. However, we believe that it is more important to meet the demands of the times and enhance our capability. For such purpose, we are willing to be more open minded to the world and do hope that Shinjo International Co., Ltd. will contribute to the world being as a bridge to the future for mutual profit.
Company Profile
Name of Company

Shinjo International Co.,Ltd

Representative

Isao Shinjo, President

Date of Establishment

July 1, 2014

Address

#501 SKK bldg., 1-7-22
Utsubo Honmachi, Nishi Ku, Osaka, 550-0004 Japan
TEL: +81-6-6444-5777 
FAX: +81-6-6444-5778

Capital

JPY13,000,000

Number of Employee

6

Date of settlement period

December 31

Business

Sales, Export and Import of various fastener components such as screws etc., fastener machineries, and the relevant raw materials/manufacturing tools/measurement equipment/packing materials etc.
Profile of Affiliate Companies
Name of Company

SHINJO MANUFACTURING CO., LTD.

Date of Establishment

February 1959

Address

17-6 Mokuzai-cho, Kishiwada-City, Osaka 596-0011 Japan
TEL:+81-72-438-7779

Capital

JPY18,000,000

Business

Manufacturing fastener components (Bolts/Nuts),
component supplying equipment and pressed component equipment.
Milestones of Shinjo Group
Year
Shinjo Mfg. Co., Ltd.


(Kishiwada Factory)

Shinjo International Co., Ltd.


(former Shinjo Mfg. Co., Ltd., Direct Trading Division)

QP Fastening Works Co., Ltd.


(former PIAS Sales Co., Ltd.)

QP Fastening Works Co., Ltd.


(former Kyushu Shinjo Co., Ltd.)

1943
Started the business in Nishinari ward, Osaka City
1959
Established the company with the capital for JPY1,800,000
1962
Started the mass-production of square weld nuts
1963
Stated the mass-production of PIAS Nuts
1964
Started the operation of Kishiwada factory
1970
Main factory moved to Suminoe ward, Osaka City

Moved the factory into the current Head Office premises

Being responded to the increased demand of weld nuts for automotive, trained several employees in the parent company.
1972
Established Kukyu Shinjo Co., Ltd.
Established a company in Osaka with the capital for JPY5,000,000
1973
Started the production of weld nuts in the half-built No. 1 factory
1974
Moved the Head Office to Kagoshima Prefecture
1979
Started the mass-production of PIAS screws (Drilling tapping screws)

Shinjo Mfg. Co., Ltd. started to sell PIAS Screws.

Increased the capital to JPY73,000,000, purchased the current Head Office premises, and started the development and manufacturing of PIAS screws.
1982
Established PIAS Sales Co., Ltd.
Established Pias Sales Co., Ltd. as an exclusive sales agent of PIAS screws
1990
Started the mass-production of PIASTA screws (Bi-metal PIAS screws)
Successfully developed and started to manufacture '' PIASTA'' of bi-metal self-drilling screw
1991
Developed self-blind rivets
1994
The 19th Invention Grand Prize awarded
1995
Established ARNOLD & SHINJO GmbH. Co., KG in Germany
Appointed Toshihide Kariya from Managing Director to President, and Hirokazu Kariya from President to Chairman
1996
Obtained ISO9002 certification
1999
Obtained QS9000 certification
2001
Concentrated the whole nut division to Kishiwada factory
2002
Obtained ISO14001 certifiation
2004
Established P&S Co., Ltd.
2005
Pias Sales Co., Ltd. took over the PIAS screws related business, built the sales structure, and started the development and manufacturing of Clinch Bolt ''CHECKLE & SYSTEM''.
2007
Obtained ISO/TS16949:2002 certification
2007
Established Shinjo Viet Num
2009
ISO9001 certification obtained together with Kyushu Shinjo under the registration number JQA-QMA-13897
2010
Osaka Prefecture Manufacturing Blue-chip Company prize 2010 awarded
2011
Established a Pias sales branch office in Tokyo
2013
PIAS Sales Co., Ltd. & Kyushu Shinjo merged and named it as QP Fastening Works Co., Ltd., started the integrated businesses.
2014
Established Shinjo International Co., Ltd. on July 1st as a subsidiary of Shinjo Mfg. Co., Ltd.
2015
Built a Rinkai Factory.
2016
Yugengaisha Shinjo Seisakusho (Shinjo Manufacturing) was changed to a holding company called "Shinjo Holdings".
Shinjo Manufacturing Co., Ltd. has been newly established to handle manufacturing, technical development and sales.
2017
Obtained IATF16949 certification