Business
Exportation to the world
Shinjo International handles the export business of the following products in PIAS brand towards the world. PIAS and PIASTA are drilling screws with superior performance which now has been used in every country in the world. Our PIAS brand lineup is highly recommended by Shinjo Group with confidence.
1.PIAS, PIASTA brand
We mainly handle all the kinds of drilling screws up to M8 and the ones for steel sheets, soft concrete, hardened steel for wood, as well as bi-metal screws for stainless steel A2, A4 steel sheets, and stainless steel sheets that are not hardened for aluminum application.
2.Self- PIAS Nut up to M14
It is available to mount any size up to M14 from ordinary sheet to the one of high tensile strength. In addition, we also export the automatic feeding system for PIAS nuts.
3.Blind rivets made of Aluminum, Steel, and Stainless steel
PIAS rivets are also available to export. They are effective to various sectors such as transportation machines, electric appliances, building materials and etc.
We also have blind rivets made of Aluminum and Steel.
4. CHECKLE
We export Clinch Bolt in a range of M5 to M14 and Automatic Feeding System for CHECKLE.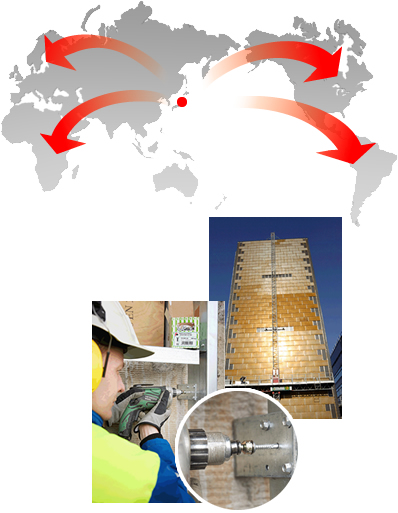 Importation from Taiwan, China and Europe
In order to provide high efficient PIAS brand products continuously, we also export the following well-selected high quality raw materials, high-performance machines, and etc.
Machines and tools to manufacture screws and nuts.
Raw materials of iron and stainless steel for screws and nuts.
Screws, nuts and rivets to re-sell in Japan.
Strength of Shinjo International Co., Ltd.
Excellent sales capabilities
Innovative offering abilities
Reliable product procurement abilities
Our sales principle is ''Engineering Sales''
However, not only selling the products, but fully understanding its technology and features of the products, we study the demands or purpose of our clients and provide the best solutions.
Even if our client could not find a product matched to their needs, based on our long-term experience in terms of manufacturing machines, tools, raw material examination, surface treatment, and manufacturing methods, we duly make the most appropriate counter offer for clients.
In our company, we provide ''high-quality products'' made 100% in our group, with a production of hundred million pieces per month, of which stable supply contributes to our clients with great appreciation.
In addition, for safety usage of the products, we conduct the strict quality check before shipment under the thoroughgoing delivery management, and make a full effort to keep providing high-performing products from day to day.